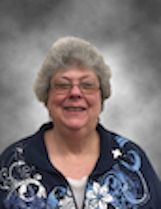 Sr. Kathy Payne (formerly known as Sr. Janice in Omaha) has been the Director of Faith Formation and Sacrament Prep for 20 years at St. Francis Xavier Parish in Petoskey, Michigan.  Petoskey averages 120 inches of snow a year.  There have been 147 this year.  
     Sister Kathy's passion is helping families/parishioners grow more deeply in love with their God as Father, Son Jesus, and Holy Spirit.  Besides helping families to be involved in catechesis, she also helps to further their daily spiritual life.  The children from the parish grade school come to the living room in the parish building for guided meditations.  Grades one through eight like the soft furniture, dim lights, and gentle music.  When some children fall asleep, Sister tells them that they are resting in the Lord.
     Children in the K-8 Faith Formation Wednesday evening program are encouraged to be of service to others.  Sister models this spirit of service during prayer services and ritual activities, when she employs her musical gifts to sing and play guitar.  The middle school youth go on a scavenger hunt for food for the needy, bake cookies for the homebound before Christmas, make lunches for the homeless shelter, and play bingo with the residents in the nursing home.
     Sister's family and community are very important.  However, poor weather conditions and driving time have prohibited her from making many trips down to Detroit for visits like she used to.  Face Time and conference calls have substituted for actual presence.  Since Sr. Kathy is retiring from active ministry at the end of June after 54 years of ministry, she will move back to the Detroit area to join her family and Servite community.  She is thinking of returning to her hobby of knitting which got interrupted when she became a Director of Faith Formation 38 years ago.  She will also continue to make candy as gifts for her family.  Sr. Kathy will celebrate 55 years as a professed religious in August.