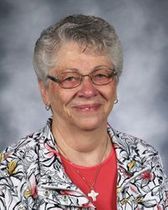 Ministry Update:  My current ministry at Marian as "Marian Minister" is mostly in the area of Bereavement.  When a Marian Alumna loses a parent, a spouse, a child or a sibling I go either to the Visitation or Funeral when these are in the Omaha area.  I visit with the Alumna and some of her family members and assure them of our prayers at Marian for their family.  Oftentimes, the Marian Alumna will be a student that I taught in the late 60's, 70's or early 80's so it is good to connect with these Alumnae once again and offer some comfort and prayer in the midst of their loss.
With over 9,500 Marian Alumnae now, I often go to several Funerals and/or Visitations in a week. The most I have had were ten in one week. Many of the deceased loved ones are parents or spouses of our Alumnae.  About 5-6 weeks after the loss of the family member I try to contact the Alumna to see how she and her family are doing.  I also write a follow-up note and include an appropriate CareNote (published by Abbey Press) which are 4-5 page pamphlets with some of these titles:  "The Loss of a Parent", "Finding Your Way after the Loss of a Spouse", "Losing a Sibling", etc.
Along with the Bereavement Ministry I belong to the Marian Advancement Team which consists of about twelve women doing a variety of jobs including publicity, alumnae director, event planning like our annual fundraiser: F.E.S.T. (Funding Education in the Servite Tradition), etc.  Many of these women are Marian graduates themselves and thus very dedicated to Marian and its many activities plus they are a great group of women and enjoyable to work with.  At times I help set-up some of the Marian events, welcome the guests, assist with other tasks, etc.
Of course, I also enjoy being around 700-plus enthusiastic young women as well as their dedicated teachers.  But I am also glad I am no longer teaching with so much technology involved.  Biology was challenging enough when I taught it, but at that time I didn't have to deal with Smart Boards, I-Pads, e-textbooks, etc. So I was a teacher at the right time, I guess.
So with the above variety in my ministry at Marian, I really do enjoy being back at Marian High at this time of my life. Altogether now, I have ministered at Marian for twenty-one years in four different eras.