Welcome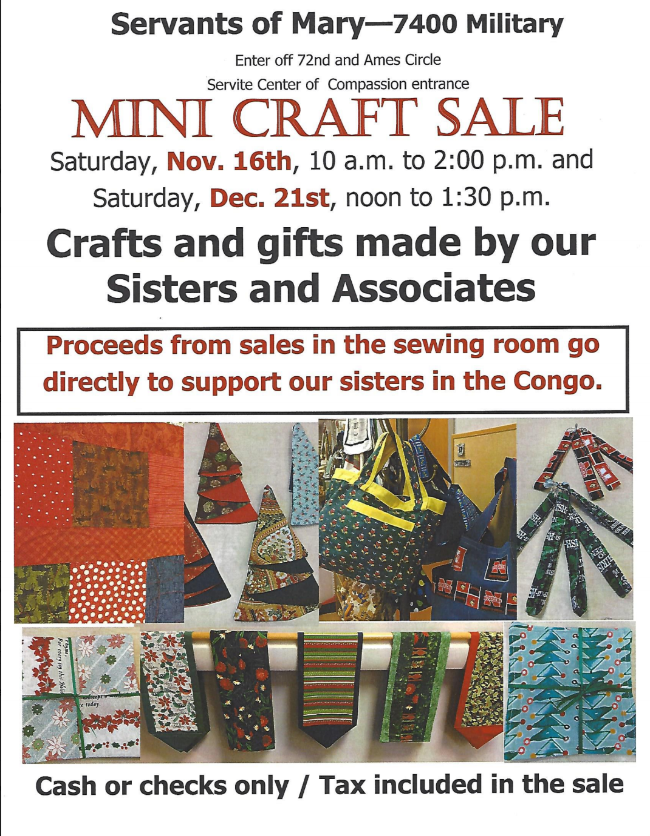 | | |
| --- | --- |
| Srs. Linda Hess, Val Lewandoski and Nancy Marsh participated in the Sept 20th Global Climate Strike, held on the steps of City Hall in Omaha. The action was organized by local youth to increase awareness and mobilize effort to address the climate crisis. | |
| | |
| | |
The Servants of Mary (Servites) is a Catholic community of women religious and lay associates called to bring the compassionate presence of God, in the spirit of Mary, to all those whom we meet and with whom we minister.
We belong to an international community, the Order of Servants of Mary (OSM). Our Motherhouse (Our Lady of Sorrows Convent) is located in Omaha, NE. We have members across the country and around the world. Together, we are committed to a life rooted in prayer, community, and service.
Coming Events
COMING EVENTS 
Journey with the Sunday Readings: From Advent to Lent with Srs. Joan Houtekier and Val Lewandoski, Saturday, November 23 from 9:00 a.m. - noon
Advent Tea and Reflection: "Seek the Stillness" with Mary Eileen Andreasen, Sunday, December 1 from 2:00 - 4:00 p.m. 
ONGOING PROGRAMS
Contemplative Prayer Group, every Monday evening at 6:30 p.m.,  Servants of Mary Chapel
Caregiver Solutions Group, 1st Thursday of each month, 10-11:30 a.m. 
St. Peregrine Liturgy, 3rd Saturday of each month, 11 a.m. 
TO REGISTER ONLINE FOR PROGRAMS 
On this Home Page -  in the top menu click on Servite Center, in the drop down menu click on Registration, follow the prompts.
Check Servite Center of Compassion Scheduled Programs for details.
News & Announcements
LCWR Letter to President Trump
More Than 660 LCWR Members Call on President Trump to Stop All Divisive and Polarizing Rhetoric
We have a couple of visitors this week. Sr. Paulette Labbe and Sr. Alice Kotwick are visiting from Michigan!!

https://t.co/XEltIQUWcj