The Pieta
                 … Mary holding her son at the foot of the cross.
The charism of the Servants of Mary is to be a compassionate presence as modeled by Mary.  This is inherent in all we do.  Our Constitutions call us to this compassion: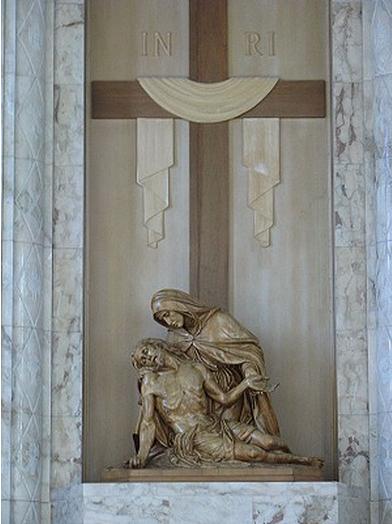 Excerpts from Servants of Mary Constitutions:
From its beginnings, our Congregation
has been dedicated to Our Lady.
Contemplating Mary and following her example
we deepen our understanding of Servite mission,
our cooperation in the redemptive work of Christ.
It is in Mary's name and under her guidance
that we wish to serve.  
Article 7 
Mary, Mother of Sorrows,
standing at the foot of the cross
teaches us to offer our lives
as an acceptable sacrifice to God.
She helps our love to grow
to the dimensions of her compassion
that we may reach out in care
for the suffering and the poor.  
Article 9
In company with Mary
standing at the foot of the cross,
we wish to be present especially
to the suffering, the poor, the oppressed,
that they may experience the hope and peace
which radiate from the cross.  
Article 71