TO SEE THE BOUNDLESS COMPASSION PROGRAMS BEING OFFERED, CHECK JOYCE RUPP'S WEBSITE AT JoyceRupp.com 
BOUNDLESS COMPASSION PROGRAM BRANCHES OUT
 From Joyce Rupp, OSM
"The retreat changed the way I think and view the world."  This comment came from Kathy—a Lutheran deacon in Nebraska. A similar statement was made by an RN administrator in Ohio: "I am excited and empowered to make a difference!"  Ken, a retired civil engineer from Nevada wrote, "The Program energized me and introduced a new support community for my personal growth and service to others." These enthusiastic and affirming comments might lead one to ask, "What kind of experience instills this sort of response from its participants?"
In 2007, when Servite sisters Margaret Stratman and Joyce Rupp designed The Institute of Compassionate Presence, retreats and conferences based on assisting people to be more compassionate, they could not have envisioned how many lives would be radically changed. Nor could they have seen how vast and wide the seeds they planted would grow and expand. By the time 2019 arrived, over 2,200 men and women across the USA, Canada, and the United Kingdom had been motivated to develop compassion in both their personal and professional lives.
True to Servite Spirituality, The Institute of Compassionate Presence, focuses on those who stand with others who suffer, as Mary stood by the cross of her dying son, Jesus.
After a year of consultation with a variety of people working in areas of compassionate care, the two sisters formed the structure and content of the Compassion Program. The topics they developed centered on major aspects of compassion for self and others, how to be with suffering, along with compassion for creation and those who are marginalized. Numerous views of compassion from religion, science, spirituality, literature and other disciplines were explored.
In 2008, thirty persons from five states participated in the first program at the Omaha Servite Center of Compassion. In the following years, the program spread further. More and more people beyond the Midwest requested having the program in their area. Eventually it became nationwide and then traveled abroad. Usually participants meet from Sunday evening to Thursday afternoon. As the program grew, Sr. Val Lewandoski joined as the third co-director.
The co-directors realized that compassion involved much more than an institute of education. It was actually about personal transformation. And a name change to Boundless Compassion reflected this reality. Thus, the conference and retreat style evolved to include a variety of formats all which allow for periods of silence and personal reflection. The goal being to have participants integrate the material so it can affect both personal and professional life. Evaluations continually laud the program for its "life changing" effect.
In 2017, the co-directors looked to the future and the expanding nature of Boundless Compassion. They recognized that it was time to train others to lead. To do so, they created a Training Handbook and they developed an all day workshop to train past participants of the compassion programs to become facilitators. Sr. Joyce authored two books containing the core components of the Program: Boundless Compassion, and Prayers of Boundless Compassion. Her presentations were also filmed. (Both books and the videos are available at https://www.osms.org/servite-gift-store.html).
Currently there are 115 certified, trained facilitators who, with their personal and professional giftedness, are taking the program far and wide: leading four-day retreats, weekend workshops, six evening series, and study groups using the books and videos. The potential is endless: four facilitators presented a workshop for volunteers of food pantries; Kevin, a business consultant, spoke at a bank's national conference for employees; Erin has now begun to lead trainings for facilitators; and Sylvia, from the UK, has translated the Boundless Compassion book into Hungarian.
The co-directors continue to monitor, resource, and evaluate the trained facilitators' activities with Sr. Joyce serving as their central coach and consultant. Wendy, from Chicago, manages the Facebook page for facilitators.  Like campfires lighting up a darkened forest, the ministry begun by these Servite sisters will live on beyond them in the light-filled dedication of Boundless Compassion facilitators, cultivating compassion in individuals and in our world.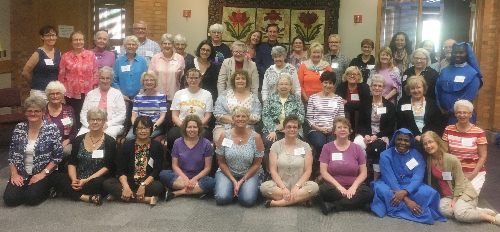 PROGRAM CREATORS 
Joyce Rupp, OSM - Director 
Sr. Joyce describes herself as a "spiritual mid-wife," one who assists others in birthing an ever fuller and deeper faith life. She has a Masters in transpersonal psychology and is the author of numerous and award-winning books. Besides writing, her ministry includes speaking at national and international conferences, spiritual direction, and directing the Boundless Compassion Program. Joyce is a member of the Servants of Mary Community.
In developing the Program Joyce has been joined by two other Servites, Margaret Stratman, OSM, educator, spiritual director, and Director of the Servite Center of Compassion and Val Lewandoski, OSM, licensed counselor, spiritual director, and Assistant Director of the Servite Center of Compassion.  
COMMENTS FROM PROGRAM PARTICIPANTS 
"Awakened me to how we are intimately connected to each others' joys and sorrows."
"Enriched the soil of my spirit, as well as seeded the garden of my creativity."
"More aware of the deep hurts and needs of others."
"A learning experience that called me to use the wisdom within myself."
"Learning what it means to live into a healthy sense of compassion."
​
"Made me a better person, less blaming."
"Most helpful insights and resources."
"Opened me to accept all the aspects of my true self."
"I now focus my reading on compassion and have introduced program material to my church community."
"Daily living compassion, feeling the cost of walking the talk."