Boundless Compassion Program
VERY SUCCESSFUL 2019  BOUNDLESS COMPASSION PROGRAM 
A Boundless Compassion Retreat and Training was held June 16 - 21 at St. Benedict Retreat Center in Schuyler, NE. 
Participants came from 16 US states, Canada, and the UK. 41 took part in the retreat and 38 in the training. This marvelous group brought with them a vast amount of wisdom and lived experience. They provided wonderful enrichment for each and all of us. Joyce Rupp OSM led the program with helpers Margaret Stratman OSM and Val Lewandoski OSM. This is the last program the team will be leading.
BOUNDLESS COMPASSION PROGRAMS
Compassion can change a heart, change a life, change a world.
All Boundless Compassion Programs explore the depths of the many layered components of compassion, the central quality of the life and teachings of Jesus. They aim to expand and deepen one's understanding of compassion from both a personal and professional perspective. They present insights from many dimensions, including theology, spirituality, science, sociology and psychology. In addition to presentations, communal prayer, video resources, small group dialogue, and quiet times for reflection are often elements of the programs. Programs are open to persons of all faith traditions. Compassion programs serve as a catalyst for a renewed commitment to be a compassionate presence to oneself and to those who are in the midst of pain and struggle. 
Training opportunities are available for those who would like to become facilitators and offer Boundless Compassion programs to their constituents. The intensive training includes an in-depth study of the program contents and process, information on a variety of resources, and creative approaches for presentations. Those who have attended any of the Boundless Compassion Programs are eligible for the facilitator training. 
Joyce will continue as consultant and coach for those who will be facilitating any aspect of the Boundless Compassion Program. All future opportunities for programs and trainings will be posted on Joyce's website at www.joycerupp.com. Please consult the website for details.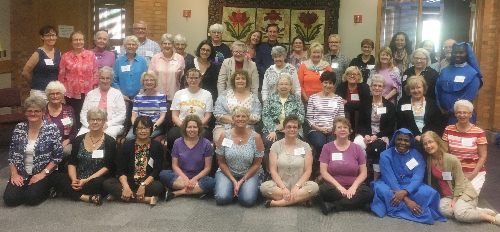 PROGRAM CREATORS 
Joyce Rupp, OSM - Director 
Sr. Joyce describes herself as a "spiritual mid-wife," one who assists others in birthing an ever fuller and deeper faith life. She has a Masters in transpersonal psychology and is the author of numerous and award-winning books. Besides writing, her ministry includes speaking at national and international conferences, spiritual direction, and directing the Boundless Compassion Program. Joyce is a member of the Servants of Mary Community.
In developing the Program Joyce has been joined by two other Servites, Margaret Stratman, OSM, educator, spiritual director, and Director of the Servite Center of Compassion and Val Lewandoski, OSM, licensed counselor, spiritual director, and Assistant Director of the Servite Center of Compassion.  
COMMENTS FROM PROGRAM PARTICIPANTS 
"Awakened me to how we are intimately connected to each others' joys and sorrows."
"Enriched the soil of my spirit, as well as seeded the garden of my creativity."
"More aware of the deep hurts and needs of others."
"A learning experience that called me to use the wisdom within myself."
"Learning what it means to live into a healthy sense of compassion."
​
"Made me a better person, less blaming."
"Most helpful insights and resources."
"Opened me to accept all the aspects of my true self."
"I now focus my reading on compassion and have introduced program material to my church community."
"Daily living compassion, feeling the cost of walking the talk."