When your Passion becomes Compassion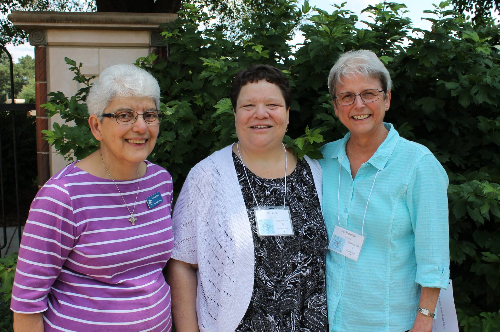 "Come and check out an idea."  That was an invitation by several priests in Portland Oregon who were looking for options for their parishioners when Catholic Charities closed their counseling department.
That was 1986.  When Sr. Sarah Deeby and Sr. Barbara Kennedy arrived in Portland for an interview, it was clear there wasn't much of a plan, no offices and very little money.  It all seemed foolish and risky. All that clearly existed was a void of professional counseling services for the local parishioners especially the financially fragile. This was the plan and it became something else.  
When Sisters Sarah and Barbara arrived in Portland, they met a young woman, Lisa Sheridan who was working at The Grotto.   At first, Lisa served as a part-time secretary and that too became something else. Rather quickly, she became the full-time Business Administrator, friend, associate, Sister and then a therapist.  
Slowly there was a trickle of interest followed by a trickle of clients at The Northwest Catholic Counseling Center.  Then began the avalanche of phone calls and inquiries. They sounded something like this: "I am living in my car because of medical bills.  I have no insurance so no one will see me. I can only afford a few dollars. Out of 15 calls I've made you're the only one who has called me back.  I am not Catholic. Will you see me anyway?"
Then to their surprise, the foolishness became something else.  It grew into the mission of serving all people regardless of faith or finances.  The mission was grounded in the social justice teachings of the Church and that lived out experience meant good health care is a right and not a privilege.
And then something else happened.  It became clear that more was needed besides counseling.  There were so many clients in need of psychotropic medications who could not afford meds or a prescriber.  From that need came the hiring of a psychiatric nurse practitioner that could prescribe needed medications and obtain samples from drug reps to help defray the cost of meds.
Then one day a question challenged the staff.  Could they honestly say they were serving all when they could not serve the large, very poor immigrant community in Portland? Clearly, their needs were not being met.  That led to the next journey. Two offices were built and a Spanish-speaking therapist was hired.
When interviewing Sarah, Lisa, and Barbara they all agreed "It would take a boring chapter to describe the ups & downs, successes & failures, the blood sweat and tears (you get the point) to truly describe the evolution of the Center."
But the foolishness caught on and a community of supportive like-minded, compassionate people hold up the Center for the sake of the mission. A staff of 18, along with a strong Board of Directors, a multitude of volunteers and generous supporters make the impossible possible.