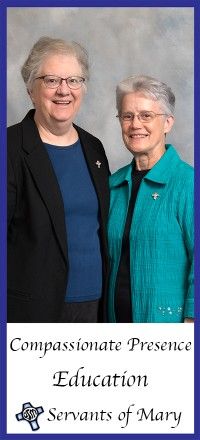 SERVANTS OF MARY AND OUR ROLE IN EDUCATION
When the early immigrants came to the United States, two needs became apparent: education and health care.  Bishops and pastors from around the states began contacting religious orders from "back home" in whatever the country of origin was for their particular dioceses and/or parishes.  Religious communities from Europe, Great Britain, Ireland, etc. sent sisters on mission to the US to help meet the needs of these immigrants.  The Catholic school system and the Catholic health care system were begun by these Communities and flourished.  For quite some time a young woman who was called to the religious life needed to discern whether or not she wanted to be a teacher or a nurse.  Obviously, sisters took on many other roles, but these two were prominent.
For the Servants of Mary, education was pivotal. Our roots began in 1842 with Marie Guyot and her school for girls in Cuves, France. In 1851 they moved to England and ministered in the Ragged Schools for the poor children.  Twenty years later, the first group of Sisters were sent to Wisconsin to teach.  They returned to England three years later.  It wasn't until 1893, after another try in Wisconsin in 1892, that the first permanent mission in Indiana was begun.  From this time forward until the 1960's, Servite sisters were called upon to teach in Illinois, Iowa, Missouri, Nebraska, Colorado, and New York. Servite sisters were asked to begin a school at Holy Name Parish in Omaha in 1918.  The Sisters arrived on a Friday and opened the school on the following Monday. This year marks the 100th anniversary of the school, and Servites are still ministering there.
During our 125 years in the United States, we Servants of Mary have had approximately 260 sisters ministering in 145 schools.  We've served as teachers, administrators, resource teachers and aides both in elementary and secondary schools. Many, too, have served as directors and teachers in religious education programs around the country.  We have also had sisters ministering on the college/university level as instructors, professors and department chairs.  Along with this we have had sisters serving on the diocesan level in Catholic schools offices as secretary, associate superintendent and superintendent.  A number of our sisters still minister in education in roles such as teacher substitutes or assistants, religious education, literacy programs, Campus Ministry and assistants in advancement departments.
Education remains a priority to us.  For a number of sisters now, this education has expanded from the classroom to a variety of other opportunities.  These ministries will be featured, one a month, here on our website.  Please come back and read more!