Monte Senario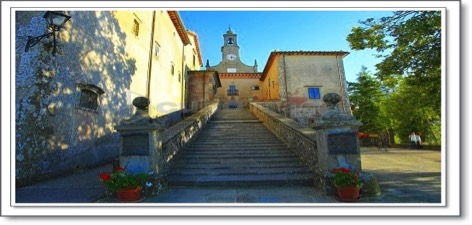 Servite Experience in Monte Senario
FBCC Assembly 2017
Three of our sisters, Val, Linda and Roselma were invited to attend both the Servite Experience in Monte Senario and the FBCC Assembly near Paris.  We've asked them to share their thoughts and impressions with you.  Also included are comments from Sr. Barb Kennedy, who was asked by the FBCC to give a presentation about communication and to "listen and respond" to their discussions to help further their ability to fully communicate with each other.  (She did a marvelous job, by the way!)
Linda Hess
Making the journey across 'the pond' to Italy and France was truly a Servite Experience.  Climbing the steps of Monte Senario was like going back to the 14th Century and walking with the Seven Founders.  What a thrill to visit the cave of St. Alexis and drink from St. Philip's Well.  The view from the Mount was breath-taking, with the Tuscan Hills in every direction.  The paintings and pictures were marvelous to see, but meeting the Friars and the Sisters from all over the Community was the best. 
The day we spent in Florence was a real education for me.  I did not know about the Church of the Annunciation and the deep Servite roots.  Though it was very hot (103 degrees) we were able to see many things that make Florence so popular.  Being able to spend a day in Assisi was very meaningful to me and a real holy site to visit.  I never thought I would be able to walk in the steps of our Founders AND St. Francis.
It was wonder-filled to meet so many of the sisters from the FBCC for their Assembly.  As the days passed by, I did get the feeling of how we are ONE COMMUNITY.  It was a blessed experience and I am very grateful to have attended the Servite Experience.  I look forward to our Total Community Assembly next summer!
Sr. Val Lewandoski
As we Americans said our goodbyes at the Charles De Gaulle airport on August 11th, among the last words from Sr. Chantal Mari were "Yes we can"! These words expressed our shared hope for the future of our Congregation and our determination to deepen the connections we experienced at Monte Senario and during the French Assembly.
Spending extended time with sisters from every Community and culture within the Congregation made the changes to our governing structure come alive for us. Together, we participated in international faith sharing groups, visited the beautiful Servite Basilica, Santissima Annunziata in Florence, shared meals with an international community of Servite Friars and walked the paths of our Founders at Monte Senario. We were warmly welcomed for an overnight at Groslay and then, at a lovely retreat center outside of Paris, we visitors to the French Assembly witnessed the faith-filled lives of our French, Canadian, Belgian, Jolimont and Congolese sisters as they described their daily lives and ministries. Sr. Barb Kennedy provided insightful reflection throughout the Assembly.
To say this experience was rich is to dilute its significance. There we were, multiple cultures with a language barrier, managing to communicate not only our thoughts but also our desire to know one another, to accept and even rejoice in our differences, knowing we share community and charism. Getting to know our Congolese sisters was a special privilege, as they shared their faith and music, presenting a vibrant picture of the future. Significant also was spending time with Sr. Hazeline from our linked Jamaican community. We all participated in meaningful discussion, prayer and social time.
There were many other highlights of this trip: our wonderful day in Assisi, driving through the Italian countryside with its rolling hills and olive groves, a visit to a castle in France, and several very refreshing gelato tastings!
I am sure I have been positively changed by this experience, and I look forward to next summer when our sisters will again come together from different parts of the world, this time to Omaha, for our first Congregational Assembly!
Roselma Legault
My heart is filled with gratitude for the opportunity to go to Monte Senario and the FBCC Assembly in France.
On our first day we were given a tour of Monte Senario. I could feel the spirit of our Founders as we walked in their footsteps touring the magnificent building, seeing the beautiful ancient paintings, our Seven Founders Chapel, the hermitages where they lived and the St. Philip's well.
We even had a prayer service where we shared bread and took a blest bottle of St. Philip's water.
Each day we had faith sharing which deepened our understanding of scripture and of each other. It was such a unifying experience!
We were invited to reflect on our call to Religious Life with reference to how our Founders responded, to share this with another person, and to bring a symbol.  This really touched my heart, and I was so grateful for my vocation as a Servant of Mary
We spent a day in Florence—known throughout the world for its historical and artistic heritage.
We had Mass at Santissima Annunziata followed by a tour. We walked the road to Duomo, Florence and the Cathedral – Magnificent!
An added bonus was that we got to go to Assisi. We went to see St. Claire's tomb and all they preserved from her. We also went to St. Francis Chapel.  All was quiet as people were kneeling and praying. It truly was a holy experience.
The Sisters at the FBCC were so loving and welcoming. We were greeted by a kiss on each cheek and hugs.
Each day the Office was beautifully chanted and the liturgies were in French, with some English.
Each group took turns planning it. The young Congolese Sisters played the drums and the maracas – the liturgies were very lively!
Sr. Barbara Kennedy gave an excellent presentation on communications which we all needed.
We spent a day of meditation on the tree of life bearing fruit. We picked a tree that spoke to us and had reflection questions to answer. It was a prayerful experience.
Then each Fraternity presented the Sister or Sisters in their Fraternity and how they have been experiencing the sharing of resources, the charism, and the collaboration with the lay people, and their mission. Some presented skits, slide shows and informational reports. This helped me to know the Sisters better.
We also got to choose a workshop. I colored a Mandella, and every color had a meaning. The meanings emerged as I colored. It was relaxing, enjoyable and meaningful.
One of the highlights was having a Jubilee Mass in a historic Church –St. Marks. We celebrated our Jubilarians and two Congolese Sisters took their Final Profession. We ended with a festive meal.
Throughout this whole experience, I got to know our International Congregation which made me realize that we are one as an International Community!
Barbara Kennedy
It was with some trepidation that I flew into Paris to spend three days with three Servites from the FBCC that I had not met.  That trepidation lasted about 10 minutes and was quickly replaced by a heartfelt embrace that made me feel a part of their local community. 
This same spirit was evident at the FBCC assembly in Loisy.  Language posed no problem as we shared meals, prayer and community. 
Time with the Congolese sisters was particularly inspiring.  I was deeply moved while listening to them describe their current ministries as well as their plans for the future.  There is no question in my mind that they are competent, confident, committed women who are Servite to the core.
I don't often wear my heart on my sleeve but I want to say that my time in France was one of the richest experiences of my life.