New Jamaican Associates
Dear Sisters and Associates,
I just returned from a wonderful week with our Sisters and Associates in Jamaica.  I left the ice and snow in Omaha (gone now) for 87 degrees and muggy; but it's not the weather, it's the company!  Sr. Marie Thérèse was also joined us for the week.
Besides visiting in Kingston and Montego Bay, we were present for the commitment ceremony of six Associates.  These women have journeyed with the Servite Sisters for many years and have now "made it official" through this ceremony.  There was a home Mass presided by Bishop Emeritus Donald Reece, the commitment ceremony and a luncheon. Some of the Associates' family members and a couple of women interested in becoming Associates were also in attendance.  All in all it was a beautiful day. Pictured below are the new Associates with their certificates.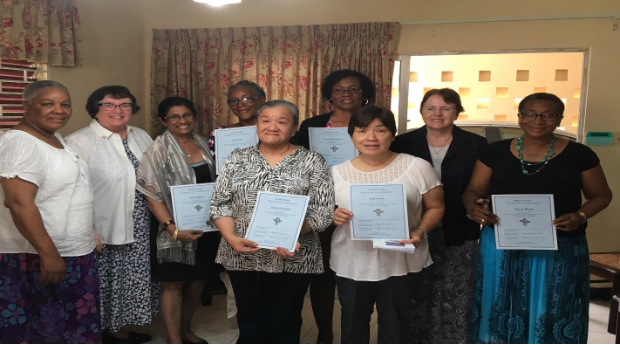 Back Row L-R: Sr. Hazeline, Sr. Mary, Joan James, Ann Grant, Hermine Anderson, Sr. Marie Thérèse,   
                       Audrey Wright
Front Row:   Colleen Vendryes and Andrea Lyn
We are so pleased to welcome them to our Servite family!  They look forward to becoming more actively involved with the Sisters.
Sr. Esther has had a very long week.  She fell last week and fractured her foot in a number of places, resulting in her having to wear a boot.  She is also in need of physical therapy and as of today, has been moved to Immanuel Fontenelle. After a time of therapy, Sr. Esther will become a permanent resident there.  As with any of the sisters, Sr. Esther realized that as much as she wanted to stay at the Motherhouse, receiving the care she needs would best be met at Immanuel Fontenelle.
Currently she is in Room 172.  The phone number is 402-717-6209.  If you would like to send her a card, the address is:  Immanuel Fontenelle, 6809 N 68 Plaza, Omaha 68152.
I'm certain she would love hearing from you.  
"Not what we say about our blessings, but how we use them,
is the true measure of our thanksgiving."
– W.T. Purkiser
I came across this quote and thought about how fortunate we all are and how many blessings we have.  It makes me realize that it's not just about accumulating blessings in our lives. True gratitude is shown by how we accept and use what we have been given.  Thank you all for all the many gifts you share as Servite Community. What we have is enhanced by how we share it with each other, treat each other and care for each other.  We all are indeed truly blessed.
Let us join in prayer together this Thanksgiving expressing our gratitude for how God has showered us with love.
Mary