Boundless Compassion Program 2017
SAVE THE DATE:
BOUNDLESS COMPASSION RETREAT 2017  
JUNE 11 - 15, 2017  at  ST. BENEDICT'S CENTER, SCHUYLER, NE
Compassion can change a heart, change a life, change a world. This retreat offers an opportunity to explore the depths of the many layered components of compassion, the central quality of the life and teachings of Jesus. The retreat aims to expand and deepen one's understanding of compassion from both a personal and professional perspective. 
It presents insights from many dimensions, including theology, spirituality, science, sociology and psychology. In addition to presentations, communal prayer, video resources, small group dialogue, and quiet times for reflection are elements of the retreat. It is open to persons of all faith traditions. The retreat also serves as a catalyst for a renewed commitment to be a compassionate presence to oneself and to those who are in the midst of pain and struggle.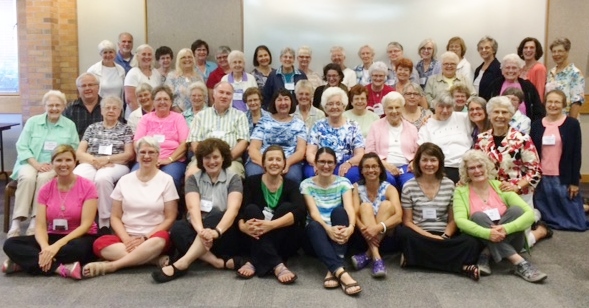 Retreat Presenters
Joyce Rupp, OSM - Main Presenter 
Sr. Joyce describes herself as a "spiritual mid-wife," one who assists others in birthing an ever fuller and deeper faith life. She has a Masters in transpersonal psychology and is the author of numerous and award-winning books. Besides writing, her ministry includes speaking at national and international conferences, spiritual direction, and co-directing the Institute of Compassionate Presence. Joyce is a member of the Servants of Mary Community and a volunteer for Hospice.
Joyce will be joined by Margaret Stratman, OSM, educator, spiritual director, and Director of the Servite Center of Compassion and Val Lewandoski, OSM, licensed counselor, spiritual director, and Assistant Director of the Servite Center of Compassion.  
Some Experiences of Past Participants 
" I have felt a strong spiritual shift in my thinking and reacting, which has brought me a lot of peace and clarity."
"The program has awakened within me a quest for new ways to show compassion, to be with those who are broken and in need, and to gently tend my own soul."
"For me this program has opened more doors to learn, scrutinize and deepen my awareness of how badly we need compassion in our world."
"This program makes one comfortable with the uncomfortable, opening one's eyes, heart, and mind toward others."
"I was reminded over and over of why I do what I do as a chaplain."
​