Unifas 2016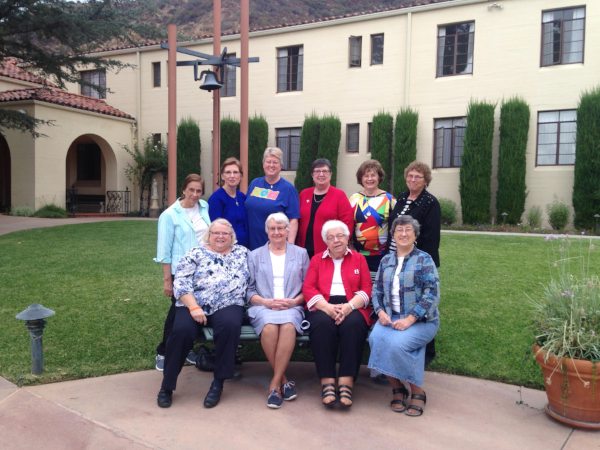 The Sisters and Associates pictured above are those who attended the UNIFAS-USA conference this past weekend. (Due to her mother's illness, Sr. Lisa was unable to join the group as planned.) The conference was held at the Mater Dolorosa Passionist Retreat Center in Sierra Madre which was a lovely venue often used by the Servite Friars.
The theme was "Living Our Servite Charism Promoting a Culture of Mercy and Peace."  Sr. Ginny gave the address on Fridayevening entitled "The Road to Mercy Starts from Within."  This was an excellent beginning to the conference as it set the tone both personally and as a group of Servites.  
On Saturday, Fr. Tom Bonacci, CP spoke on the topic "The Passion in the Life and Death of Jesus."  This was an in depth look at the Gospels and explanation of how/why Jesus died for us first and foremost because of the love he has for us.  Father spoke of not dwelling on the fact that Jesus fell under the cross three times, but rather how he lifted up the cross and loved us.  This is what we, in turn, are to do: not dwell on suffering, pain and sin, but learn to love ourselves and others.  
On Sunday  two women who are survivors of human trafficking, both sexual and labor trafficking, shared their stories with the group.  They also shared information regarding national resources that are helpful in providing education, assistance to survivors, etc.  It was another worthwhile presentation.
At the closing liturgy the newly selected executive committee for UNIFAS-USA was announced.  This group was chosen at the Assembly meeting of the leadership representatives of the various UNIFAS_USA groups on Friday morning.  The new executive committee members are:
President: Sr. Lisa Sheridan
Secretary: Sr. Barb Thomalla (Ladysmith Servites)
Treasure: Deborah Nunes, OSSM (Prioress of the Secular Servites)
Members at Large: Fr. Vidal Martinez, OSM; Mellody Randolph (Associate)
We congratulate our Community's representatives, Lisa and Mellody for accepting these positions.  Much discussion was held about the future of UNIFAS-USA and keeping the 1600+ USA Servites connected.  Please keep the group in your prayers as they plan for the future.
Our Omaha Community took the time to recognize Rose Roeder for her over a decade serving as our representative with this group.  In the last years, Rose served as President and helped organize the planning of the past few conferences.  Many thanks, Rose, for both your dedication and your service!
| | |
| --- | --- |
| | Associate Arlene Anderson and Sr. Doris Durant |
| Associates Nancy Arce and Marlene Rowe | |