A holiday Season of hope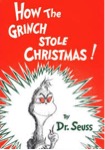 A Holiday Season of Hope
In a 2004, Anne Robertson wrote an article for explorefaith.com. I found it very intriguing. She relates that the, "best Christmas sermon ever preached [is] How The Grinch Stole Christmas, by Dr. Seuss. Although it's not necessarily religious, Anne found the truth of the Gospel in this favorite tale. Anne shared what many of us may feel when we are grieving: we may feel like being the Grinch. We may want to take everything involved with the holidays, gather it up and throw it over the edge of the mountain. We don't want to hear the songs, we may not want to go to parties and gatherings, or shop for the gifts. We may not even want to receive gifts. We don't want it going on all around us because it is a constant reminder of how our holidays will be different. We may want to make it all go away, in hopes that our hurt won't hurt as much.
But if we take a moment to see past all of the glamour of the holiday season, we may be able to look past our hurt and realize that isn't what the holidays are all about. Rather, the holidays are about God and the love He has for each of us, even in our time of sorrow.  
Anne concludes her article by saying, "The story of the Grinch never fails to remind me that the real celebration is not about who is absent from the table, but Who is present [.]" When we truly open our hearts to see God's presence in our lives, we find that we remain connected to all those we love, whether here with us now, or here with us in our past.
Like the Grinch, we may need to look for ways to work through our emotions with the holidays. The following ideas may help you and your family this holiday season:
Accept that the holiday season may be hard for you
Be accepting of your feelings
Express your emotions
Plan your day before it arrives
Remember to remember your loved one
Say the name of your loved one
Look for and count your blessings
Do something for others
Make a snow angel in memory of your loved one
Look for joy
Make a toast and say a prayer for your loved one
Create a new tradition
Remember that it's okay to cry
Light a candle in your home in memory of your loved one
Make one of your loved ones favorite meals for the holidays
Make a memorial ornament or wreath
Play your loved ones favorite holiday music
Keep a journal
Spend time looking at photos
Decide how and with whom you want to spend the holidays
Communicate your wishes for the holidays with your family and friends
Seek gratitude
Be willing and open to accepting help
Hang a stocking that people can fill with memories of your loved one
Remember, it's okay to feel joy, to laugh and to smile. You are not diminishing the love you had for your loved one.
For more information about this article or GriefWork: A National Servite Ministry of Compassion, contact Maria Farrell at bereavement@osms.org.