Welcome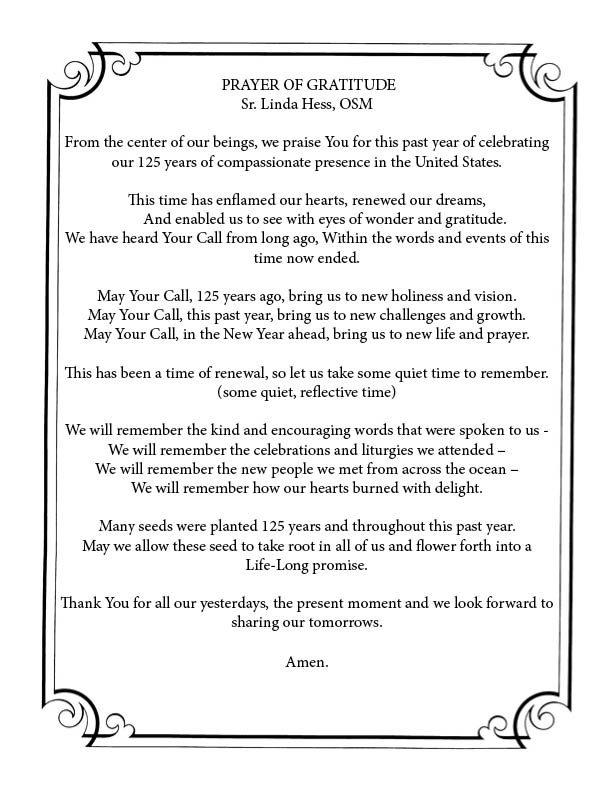 The Servants of Mary (Servites) is a Catholic community of women religious and lay associates called to bring the compassionate presence of God, in the spirit of Mary, to all those whom we meet and with whom we minister.
We belong to an international community, the Order of Servants of Mary (OSM). Our Motherhouse (Our Lady of Sorrows Convent) is located in Omaha, NE. We have members across the country and around the world. Together, we are committed to a life rooted in prayer, community, and service.
Coming Events
COMING EVENTS 
Does Your Prayer Match Your Personality? with Jodi Gehr, Saturday, February 2 from 9 a.m. - noon.
Peace in the Midst of Chaos: Mindfulness in Daily Life, with Mike McMahon, Saturday, February 9 from 9 - 11 a.m. 
Walking Through the Fire of Grief, with Kay Buhrman, Saturday, February 23 from 9:30 - 11:00 a.m. 
Anchors for the Soul: Finding Peace Amid a Harried Society, a Lenten Retreat with Joyce Rupp, OSM, Saturday, March 23 from 9 a.m. - noon
ONGOING PROGRAMS
Caregiver Solutions Group, 1st Thursday of each month, 10-11:30 a.m. 
St. Peregrine Liturgy, 3rd Saturday of each month, 11 a.m. 
Check Servite Center of Compassion Scheduled Programs for details.
News & Announcements
As our 125 year in the United States comes to a close, we made a video commemorating the year.…

https://t.co/PiXPcEZWn0