Welcome to our website!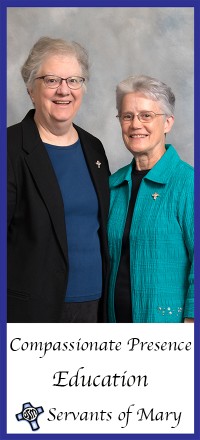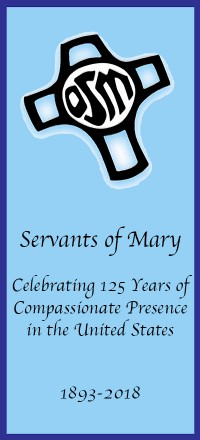 The Servants of Mary are hanging banners around the Motherhouse/Marian campus to highlight twelve of the ministries that best represent the Servants of Mary. We will be highlighting them throughout the year. The first ministry that we are highlighting is Education. 
SERVANTS OF MARY AND OUR ROLE IN EDUCATION
When the early immigrants came to the United States, two needs became apparent: education and health care.  Bishops and pastors from around the states began contacting religious orders from "back home" in whatever the country of origin was for their particular dioceses and/or parishes.  Religious communities from Europe, Great Britain, Ireland, etc. sent sisters on mission to the US to help meet the needs of these immigrants.  The Catholic school system and the Catholic health care system were begun by these Communities and flourished.  For quite some time a young woman who was called to the religious life needed to discern whether or not she wanted to be a teacher or a nurse.  Obviously, sisters took on many other roles, but these two were prominent. Continue Reading
The Servants of Mary (Servites) is a Catholic community of women religious and lay associates called to bring the compassionate presence of God, in the spirit of Mary, to all those whom we meet and with whom we minister.
We belong to an international community, the Order of Servants of Mary (OSM). Our Motherhouse (Our Lady of Sorrows Convent) is located in Omaha, NE. We have members across the country and around the world. Together, we are committed to a life rooted in prayer, community, and service.
Coming Events
 One World Health Care with Andrea Skolkin, Monday, March 19, 6:30 - 8:30 p.m. 
Jesus' Way to Cross and Tomb: A Visual Tour with Sue Calef, Monday, March 26, 6:30 - 8:30 p.m. 
ONGOING PROGRAMS
Caregiver Solutions Group, 1st Thursday of each month, 10-11:30 a.m. 
Christian Literature Book Group, 2nd Wednesday of each month, 10-11:30 a.m. 
Cancer Support Group, 2nd and 4th Tuesdays of each month, 4-5:30 p.m. 
St. Peregrine Liturgy, 3rd Saturday of each month, 11 a.m. 
Check Servite Center of Compassion Scheduled Programs for details.
COMING IN JUNE 
Boundless Compassion Retreat 2018 with Joyce Rupp OSM, June 24-28
Boundless Compassion Training Day 2018 with Joyce Rupp OSM, June 29 
Location: St. Benedict Retreat Center in Schuyler, NE
Click here for the registration brochure 
News & Announcements
Servants of Mary

Valentine's Day, a day to celebrate love and romance. At least that's what this day has evolved into. The origin …

Servants of Mary

I find myself intrigued by the television shows dealing with adoption and finding family members. I often wonder how many …