Welcome to our website!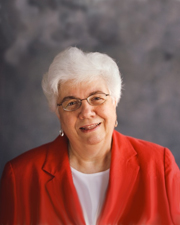 On September 6th Sr. Ginny Silvestri, OSM received an honorary Diploma at Marian High School's Esprit de Corp.
The description of the award is as follows, "Inspired by Mary, Marian's mission forms young women as leaders and lifelong learners in a society where their talents and faith will give hope to the world. Since 1959, Marian alumnae have taken this mission with them out into the world, where they serve as leaders in their families, church, professions, and communities. An Honorary diploma was established in 2015 to recognize those who did not attend Marian. Yet, their enthusiasm, service, and devotion to "all things" Marian is so noted that the only attribute missing from their long list of Marian accomplishments is a diploma. "
Sr. Ginny said this on her involvement at Marian,
"Even though I have been involved in a variety of ministries, I have always thought of myself as a teacher. No Matter what I was doing, somehow teaching become a part of it. Without a doubt, my most significant teaching experience was at Marian. The relationships I formed there with my colleagues and students made that experience one of my happiest memories. I'm grateful for the recent opportunities I've had to continue my Marian connections.
Upcoming Events:
Servant Leadership Event honoring Shirley McNally from Sheltering Tree.: September 13th for more information contact Tom Marasco at osmdev@osms.org
Servite Mob Mass: September 16 at 11:00 Mass at St. Clare of Montefalco 6231 Charlevoix St, Grosse Pointe Park, MI 48230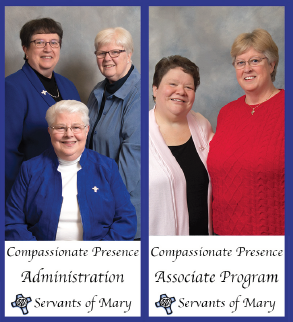 The Servants of Mary are hanging banners around the Motherhouse/Marian campus to highlight twelve of the ministries that best represent the Servants of Mary. We will be highlighting them throughout the year.
The Servants of Mary (Servites) is a Catholic community of women religious and lay associates called to bring the compassionate presence of God, in the spirit of Mary, to all those whom we meet and with whom we minister.
We belong to an international community, the Order of Servants of Mary (OSM). Our Motherhouse (Our Lady of Sorrows Convent) is located in Omaha, NE. We have members across the country and around the world. Together, we are committed to a life rooted in prayer, community, and service.
Coming Events
Practical Suggestions for Challenging Behaviors, Dr. Renee Hudson, Saturday, September 15, 9:30 - 11 a.m. 
The Qualities of Women's Leadership Book Group, 4th Monday of each month, September - February, 6:30 - 8 p.m.  
Servite Holiday Craft Sale, Saturday, October 20, 10 a.m. - 4 p.m. 
Is it Depression or Dementia? Dr. Steven Wengel, Friday, October 26, 9:30 - 11 a.m. 
Faith Indeed, Stephen Patrick O'Meara, Saturday, October 27, 9 a.m. - noon 
ONGOING PROGRAMS
Caregiver Solutions Group, 1st Thursday of each month, 10-11:30 a.m. 
Christian Literature Book Group, 2nd Wednesday of each month, 10-11:30 a.m. 
Cancer Support Group, 2nd and 4th Tuesdays of each month, 4-5:30 p.m. 
St. Peregrine Liturgy, 3rd Saturday of each month, 11 a.m. 
Check Servite Center of Compassion Scheduled Programs for details.
News & Announcements
Servants of Mary

www.cdc.gov/vitalsigns/suicideBy Paul Brustowicz Nothing good comes from a suicide. Except recently when all the talking heads on every television network …

Servants of Mary

by J. Veltri, S.J. Gracious God, on this Memorial Day weekend, we remember and give thanks for those who have …