Welcome to our new website!
The Servants of Mary (Servites) is a Catholic community of women religious and lay associates called to bring the compassionate presence of God, in the spirit of Mary, to all those whom we meet and with whom we minister.
We belong to an international community, the Order of Servants of Mary (OSM). Our Motherhouse (Our Lady of Sorrows Convent) is located in Omaha, NE. We have members across the country and around the world. Together, we are committed to a life rooted in prayer, community, and service.
Sr. Joyce Rupp talking about the Boundless Compassion Conference.  To see our old videos click here.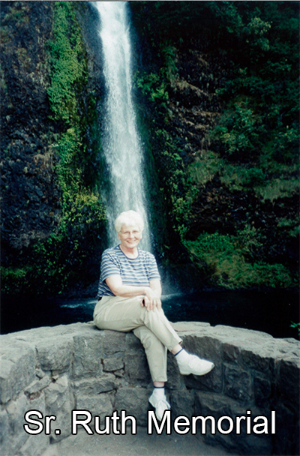 Coming Events
Summer Salads & Jesuit Spirituality with Paddy Gilger SJ, Friday, July 10, 11:30 a.m. - 1 p.m.
Friday Film: Waste Land, July 17, 7 p.m.
Summer Salads & Benedictine Spirituality with Mauritius Wilde OSB, Friday, July 24, 11:30 a.m. - 1 p.m.
Friday Film: The Judge, August 21, 7 p.m.
Pondering Poetry, 4th Thursday of July & August, 7 p.m. 
Recurrent Cancer Support Group, 2nd and 4th Tuesdays of each month, 4 - 5:30 p.m. 
Dementia Solutions Support Group, 1st Thursday of each month, 10 - 11:30 a.m. 
Check Servite Center of Compassion Scheduled Programs for details.
News & Announcements
Servants of Mary on 06/26/2015

by Nan Zastrow If you are a web surfer, you are familiar with "pop-ups." In many situations, they are frustrating …

Late Night Catechism

Josh Langel on 06/19/2015

Sister is back in the original Late Nite Catechism. Call it Loretta Young meets Carol Burnett. This is part catechism class, part stand-up routine. You, the audience member, are part of Sister's class. She'll take you back to the days of the Latin Mass, meatless Fridays and remind you about the good old ruler across the knuckles!
After each performance, a collection will be taken up for retired sisters in the Omaha area. The Servants of Mary collection will be July 15-19. Wednesday–Saturday performances are at 7:30 p.m. and Sunday performances are at 2 p.m.
Tickets are available at the Omaha Community Playhouse Box Office, by calling (402) 553-0800 or online at OmahaPlayhouse.org or TicketOmaha.com. Single tickets are $35. Tickets for groups of 12 or more are $32.