Welcome to our website!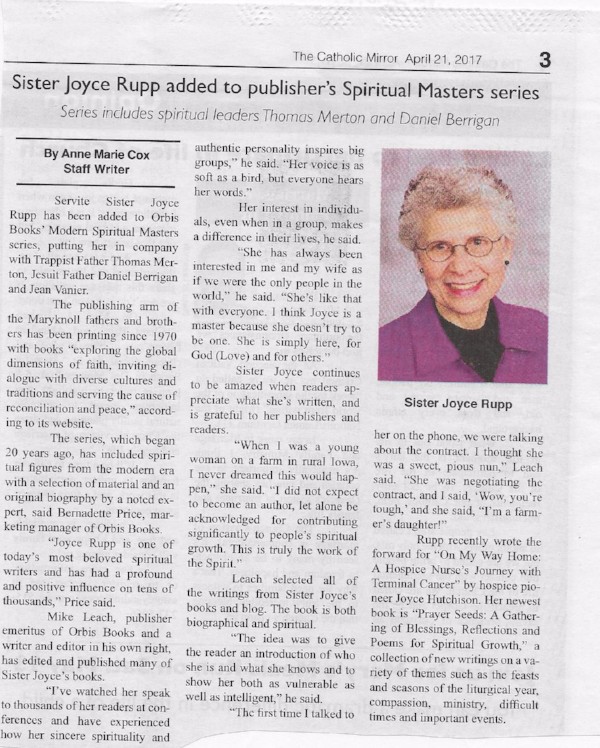 The Catholic Globe also wrote an Article on Sr. Joyce Rupp. You can read that here.
If you were part of the traditions of Servite priests and sisters at St. John Berchman's, St. Juliana's, or Servite High in Detroit, please reconnect with them for two Lenten Programs:  the Cantata "His Last Days"  to be presented on Sunday, April 2 at 3PM and a Maria Desolata Service ( Mary standing with Jesus beneath his cross) on Friday, April 7 at 7:30 PM. These will both be presented at St. Clare of Montefalco Church, 1401 Whittier, Grosse Pointe Park, MI. 
The Servants of Mary (Servites) is a Catholic community of women religious and lay associates called to bring the compassionate presence of God, in the spirit of Mary, to all those whom we meet and with whom we minister.
We belong to an international community, the Order of Servants of Mary (OSM). Our Motherhouse (Our Lady of Sorrows Convent) is located in Omaha, NE. We have members across the country and around the world. Together, we are committed to a life rooted in prayer, community, and service.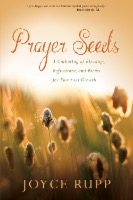 Some of Sr. Joyce Rupp's most perennially popular books have been collections of her original prayers, blessings, poems, and reflections. In Prayer Seeds, the bestselling author and retreat leader offers almost a hundred new selections on a variety of themes such as the feasts and seasons of the liturgical year, compassion, ministry, difficult times, and important events—all suitable for personal or group prayer.
In 2000, she collected her prayers in the book Out of the Ordinary. In Prayer Seeds, Sr. Joyce follows up with about a hundred never-before-published prayers written since the publication of the first collection. The prayers are organized thematically.
Coming Events
Ambiguous Loss Workshop, Saturday, May 6, 9:30 a.m. - 12:30 p.m. 
St. Peregrine May Gathering with Larry Gillick SJ, Saturday, May 20, 9:45 a.m. Talk, 11:00 a.m. Liturgy, noon Luncheon
Dementia Solutions Support Group, 1st Thursday of each month, 10-11:30 a.m. 
Recurrent Cancer Support Group, 2nd and 4th Tuesdays of each month, 4-5:30 p.m. 
Yoga for Seniors, Every Tuesday, 10-11 a.m.
Check Servite Center of Compassion Scheduled Programs for details.
Coming in June 
Boundless Compassion Retreat 2017 with Joyce Rupp OSM, June 11 - 15, St. Benedict Center, Schuyler NE 
Coming in October
Circle of Life Retreat with Joyce Rupp OSM & Macrina Wiederkehr OSB, October 27-29
News & Announcements
Servants of Mary

The Seventh Sorrow: Jesus is Laid in the Tomb John 19:41-42 "Now there was a garden in the place where he …

Servants of Mary

The Sixth Sorrow: Mary Receives the Dead body of Jesus Matthew: 27: 57-61 "When it was evening, there came a …
Not all of our Sisters are able to sit in the bleachers to support the Marian students at Field Day but they...

https://t.co/IILbJuHpnk